---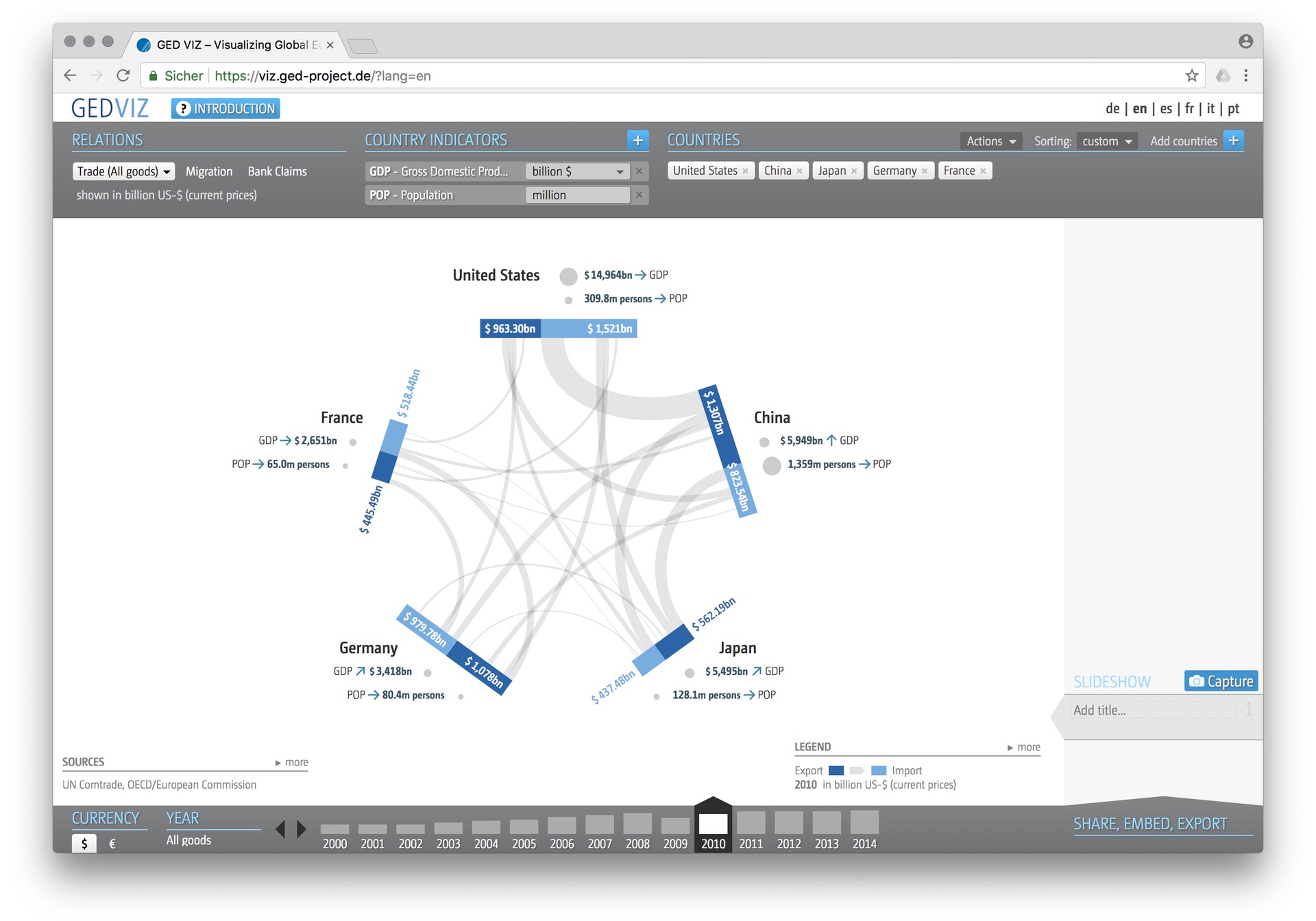 ---
Medium: Web
Year: 2013
Client: Bertelsmann-Stiftung
Team: Jan Arpe (project lead at Bertelsmann Stiftung), Raureif, 9elements, Boris Müller
In 2011, I was invited to participate in a data visualization project by the Bertelsmann Foundation – a well-known German non-profit organization and think tank. As the project became more complex, it was clear that the project had to be re-thought from the ground up. I was asked take the lead for the conceptual and creative design. After bringing in Raureif for the UI- and the visual design and 9elements for the programming and development, we had an excellent team for creating a highly ambitious visualization.
GED Viz is part of the Global Economic Dynamics project in the Bertelsmann Foundation. The GED project believes that visualizing data is central to both understanding and communicating the interdependent developments of our globalized economy. We are convinced that "knowledge brokers" such as researchers, teachers, policy-makers and journalists need to be supported in generating their own visualizations and in integrating these into their knowledge-sharing or story-telling processes.
With GED VIZ, we have developed a web-based visualization tool that focuses on relational data such as flows of trade, finance and migration, thus showing what globalization is about: mutual dependencies.
Selected countries (and country groups) are shown as bars arranged in a regular polygon. The darker part of each bar reflects the outflows of the selected bilateral indicator (exports, claims or emigration), while the lighter part reflects the corresponding inflows (imports, debt or immigration). The lengths of the parts are proportional to the respective figures representing the countries' total out- and inflows to and from all other countries available in the tool. The grey connections between the country bars indicate the flows between countries.
Next to the country bars, up to five country indicators are shown with abbreviations, tendency arrows, figures and small pictograms. The maximum number of indicators shown depends on the number of selected countries. Data sources are shown in the lower left part of the visualization, an expendable legend explaining all displayed visual elements is available in the lower right part. All data in the tool have been drawn from public sources at AMECO, BIS, OECD and UN Comtrade.
The slideshow concept is one of the tool's most valuable features: visualizations can be captured to create a slideshow (lower right area) that can then be easily embedded into other web pages via an iframe. Slides can be easily renamed, removed or reordered (by drag-and-drop). Once at least one slide has been captured, the Share, Embed, Export functions show up just below the slideshow list. Users can get the URL linking to the current slideshow, share it via email, Facebook or Twitter, get an embed code for including the slideshow into other websites (with preview), or export static images of the slides (as .png) or the data underlying the visualizations (as .csv).